Artichokes. Beans. Beets. Blueberries. Dark chocolate. Goji berries. Kale. Pecans. Raspberries. Red cabbage. Spinach. Strawberries.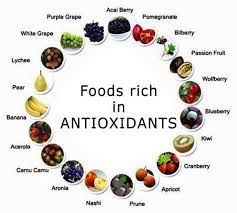 FUNCTION OF ANTI-OXIDANTS
As free radicals have deficiency of electrons, compounds are needed which can neutralize free radicals by donating their own electrons to free radicals but they themselves do not become free radicals in the process. This stops the electron-"stealing" chain reaction.
The antioxidants themselves do not become free radicals by donating an electron because they are stable in either form. They convert free radicals to harmless waste products that are eliminated from the body before any damage is done to the body. Antioxidants act as scavengers, helping to prevent cell and tissue damage.
The antioxidants are very good for prevention of diseases like heart disease and cancers. The vitamin E may protect against cardiovascular disease by defending against plaque formation in the arteries.
The vitamin C defend against cancers of the mouth, larynx and esophagus.